"Glen was hired to walk/exercise Whisky, our one year old Mini Golden Doodle, daily while I recovered from knee surgery. He most definitely exceeded our expectations.  Whisky was excited to see him every day. Even when I was at home, Whisky was still wagging his tail at the door when Glen arrived. We always felt confident when Whisky was with Glen because he is so vigilant and knowledgeable about dog behaviour. We also appreciate his concerns about safety whether he is on a brisk walk or romp at the park. Glen's extensive experience with training has transferred to Whisky. We see a distinct improvement when we walk him and when he greets new people on the street. I have already recommended Glen to many friends and will continue to spread the word.
Glen is building a very successful business and we are thrilled to support him."
Whisky, Barb & the Tinker Family (Leaside)
---
"Our family is so pleased to have found Glen Quart to care for our dog! He is quite tuned-in to the individual personalities of dogs, and uses his knowledge to ensure a safe, loving environment for them. We truly appreciate his gentle, conscientious care and commitment to making our dog's experience (and ours) a very positive one."
Jackie Lincoln (Leaside)
---
"Glen is a terrific dog walker.  He is very reliable and most importantly, I fully trust him to take great care of Rocky.  Rocky is so excited when he runs into Glen in the neighbourhood!"


Linda
---
My name is Cleo Dea.  Glen has been my puppy trainer, my walker and my best friend for 2 years.  This is what I do everyday after our walks.  I am very tired.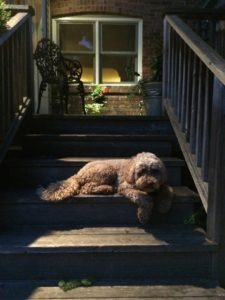 ---
Glen is a very reliable, trustworthy, caring and dedicated dog walker. He is also a great resource for dog training or health related questions. Glen has been walking our Goldendoodle Lola for almost 2 years now and we have been very pleased with the quality of service"We Let The Dogs Out" provides. Lola waits patiently by the front door every morning for Glen to come and pick her up for her park adventure. She explodes with joy when he arrives. Lola always returns home safe, tired and happy. Thanks Glen!
Laura